One Son's Story: What I Learned from Home Care Services in Flowery Branch, GA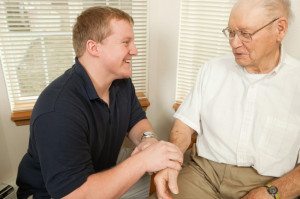 It was more than four years ago when I was dragged from a deep sleep to the ringing of the house phone. I remember squinting around the room, trying to catch the time, and noticing that it was just after three in the morning. The answering machine grabbed the call at the other end of the house and by the time I got my feet on the cold, hard ground to see who it was, the phone was already ringing again. I answered after the first ring that time and learned that my father had suffered a major heart attack.
In the days that followed, I had learned more about home care services than I would have ever predicted I would know. I learned about what they could do and how important they are to seniors in need who still want to remain in the comfort of their home.
My father wasn't too keen on the idea, but he was extremely weak and it was going to take a long time, and a lot of support and hard work, to make a full recovery. He agreed to hire in home health care services and during the next eight months, he had Sara, a lovely woman, working with him, as well as numerous other specialists who helped him make a full recovery.
I know that I said I learned a lot about home care services during those first days after getting that call, and I have to admit that, at the time, I didn't imagine that I would actually learn from them, but I did.
I learned that caring and compassion isn't just a familial trait. People who were total strangers showed an incredible compassion for my father. They treated him as though he were their father.
I learned that patience is an absolute necessity when caring for someone recovering from a heart attack. I probably would have gotten frustrated with my father long ago if it weren't for their guidance.
I learned that you can trust people that you don't know spending time with your elderly loved one in his own home.
I learned that these caregivers are people just like you and me. They are approachable, caring, kind, and will listen to what you have to say. They may not always agree, or they may have better ways of doing things, but they usually listen.
I also learned that without home care services, my father my not still be around today, and that's the greatest gift of all.
The caregivers at Home Care Matters are available to talk with you and your family about all of your elder care needs. Home Care Matters is a home care agency providing quality and affordable home care services in Flowery Branch, GA and the surrounding areas. Call (678) 828-2195 for more information.
Latest posts by superadmin
(see all)