The Benefits of Making Weight Training Part of Your Elderly Care Plan
Elderly Care in Buford GA
Staying physically active is a vital part of maintaining physical, mental, and emotional health throughout life. Ensuring your aging parents get the exercise they need on a regular basis protects them from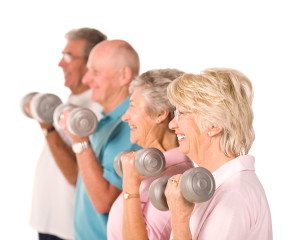 physical decline, wards of a variety of health concerns, reduces feelings of depression and anxiety, and helps them live a stronger, happier, more fulfilling quality of life.
Though regular aerobic exercise is important for burning calories and supporting cardiovascular health, this should not be the only type of physical activity your seniors get. Weight training offers a variety of benefits that help your seniors live healthier and happier. Some of the benefits of including weight training in your elderly care plan include:
• Improvement of strength and flexibility that help seniors maintain independence in daily activities as well as protecting them from serious falls
• Increase of bone density and mass by protecting against the development or worsening of osteoporosis, which helps prevent devastating fractures and loss of strength
• Building and maintaining of muscle strength and protection against muscle loss
• Reduction of body fat even without changes in diet
• Reduction of lower back pain
• Reduction of blood pressure
• Improvement of sleep patterns and quality of sleep
• Improvement of physical appearance and self-confidence
• Supporting weight loss efforts
Making weight training part of your elderly care plan does not mean spending hours pumping iron in the gym. Even moderate weight resistance offers exceptional health and wellbeing benefits, and there are many ways you can incorporate these resistance activities into your daily plan.
Try some of these ways to help your parents enjoy weight training as part of their regular physical activity:
• Add weight to other activities. Weight training does not have to be its own activity. You can easily incorporate resistance into other activities and gain even more benefits. Increase the effectiveness of walking, jogging, and even swimming by adding ankle and wrist weights or by carrying light hand weights
• Create your own weights.  Take advantage of the weighted items already in your home. Do arm curls with cans of vegetables or bottles of water, hold onto books while doing squats, or let a small child sit in your lap while doing chair dips
• Use resistance bands. Hand weights can be dangerous if your elderly adults lose their grip and drop the weight or suddenly lose muscle strength and fall. Resistance bands offer a wide range of weight values but are simply small, lightweight elastic bands. Seniors use these bands by pulling, stretching, and twisting in many of the same ways that they would use hand weights. For example, tucking on end of the band under your foot and lifting the other end toward your chest gives the same benefits as a bicep curl
• Get a personal trainer. Just as many seniors respond better to care activities given by an elderly health care services provider, your aging loved ones may be more receptive to weight training advice from a professional trainer. Research gyms and community centers in your area to find trainers who have experience working with elderly adults. Not only will working with the trainer get your senior the physical activity he needs, but it also gives them an additional socialization opportunity, which is fantastic for their mental and emotional health.
The staff at Home Care Matters is available to talk with you and your family about all of your elder care needs. Home Care Matters is a home care agency providing quality and affordable elderly care services in Buford, GA and the surrounding areas. Call (678) 828-2195 for more information.
Latest posts by superadmin
(see all)