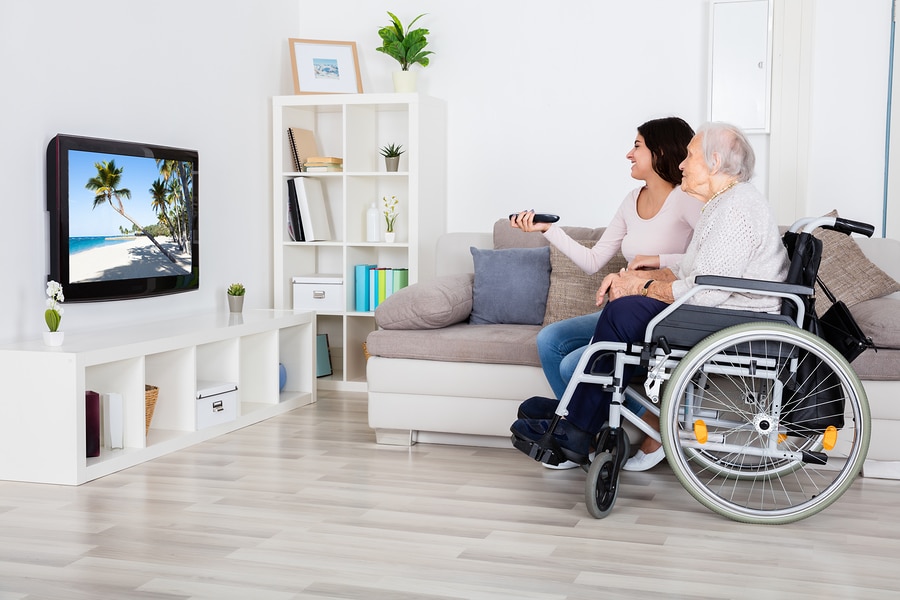 Alzheimer's affects around 6.5 million Americans. Your mom's been diagnosed and now is the time to consider the benefits of technology and Alzheimer's care at home. Through each stage of the disease, technology becomes a huge help. National Device Appreciation Day falls on December 17th. Take time to explore the different devices and how they make your family's life a little less stressful.
Early Stages
Now is a good time to get your mom adjusted to technology. She's still going to have some knowledge regarding how to use the devices she has. It's a good time to purchase these items.
Robotic Vacuum: Set up a robotic vacuum to start taking care of the floors in your mom's home. It will vacuum on a schedule. You can also get robotic mops if she has tile or linoleum floors.
Security Cameras: Install security cameras around your mom's home in inconspicuous places. If she sees them, she'll unplug them or move them around. Ideally, you want a camera in the kitchen area to make sure she's eating and drinking enough. Also, set up a camera in her living room, on stairs, and at any exit points to track if she leaves the home.
Smartspeaker: Makes it easy for her to listen to her favorite music or podcasts, and it can also find TV shows and movies and play them for her.
Smart Thermostat: Finally, it's a good time to set up a smart thermostat. It can send alerts to your phone if your mom's house is too hot or too cold. You'll be able to control the thermostat from your phone, so your mom may turn off her heat, but you can make sure she's comfortable.
Middle Stages
In the middle stages, your mom's memory and motor skills start to diminish. You should look into a smartwatch or medic alert system that has fall detection. If she falls, an alert goes out to make sure she has the help she needs.
Smart Light Bulbs: You can turn lights on and off remotely. They can also be set to timers to ensure her lights turn on before the sun starts to set, which is helpful when sundowning starts. Smart bulbs can also be turned on and off using vocal commands.
Water Sensors: Set up water sensors in the bathroom and kitchen. If she turns on water and walks away, these sensors alert you to issues like a tub or sink that's spilling over the sides.
Late Stages
In the late stages, cameras can help you monitor your mom while she's sleeping. If she starts to get up, she may not have the strength to stand without help. Have alerts that go off if she's moving around or trying to sit up. It's helpful in preventing a fall.
Rely on Support from Alzheimer's Care
You also want to have Alzheimer's care services in the late stage. Your mom is going to need constant supervision and care. Alzheimer's care aides ensure she has help with bathing, toileting, feeding, and other essential services. Bringing in Alzheimer's care soon after a diagnosis will help your parent adapt to a new person and hopefully smooth the transition through the stages.
The staff at Home Care Matters is available to talk with you and your family about all of your needs. Home Care Matters is a home care agency providing quality and affordable Alzheimer's care in Flowery Branch, GA, and the surrounding areas.
We provide elder care in Braselton, Buford, Dacula, Duluth, Flowery Branch, Gainesville, Johns Creek, Lawrenceville, Oakwood, Sugar Hill, Suwanee, Barrow County, Forsyth County, Gwinnett County, Hall County, Jackson County, North Fulton County.
Latest posts by superadmin
(see all)